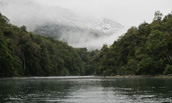 Getting ready for the 2012-2013 season
Winter has arrived in Patagonia. Heavy snow has covered the mountain caps in the Andes. More than 5 metre deep snow on the summit, and while you can find the best snow for skiing in Argentina on the slopes, the streams race down the mountains in their dramatic way towards the valleys to join the big rivers that flow into the Pacific Ocean. Some reproducing trout have taken advantage of the flooding and the muddiness of the water to start their way up the smallest streams where they will spawn, others will do that on the gravelled banks of the immense Futaleufu river. No matter where, the reproduction natural cycle of trout in Patagonia runs its normal course.
As for us, we also run our natural course. In Sendero Lodge we are getting ready to launch the fishing season on 1st November! On that date we shall open the doors of this magnificent lodge, on the banks of the Futaleufu river, in the heart of the Andes in Argentine Patagonia.
We have the most modern equipment, like new 4x4 Toyota pickups, Carolina Skiff motor boats with a casting platform and ecological engines, NRS rafts, all to be tried out by you. When the Lodge opens its doors to the public, a professional staff with a long career and great experience will be there for you to live an unforgettable fly fishing experience in Argentine Patagonia. Our work philosophy is based on Total Quality. We value each step and highlight the importance of our staff who will make the best of this experience for you. We appreciate the environment and we develop a sustainable, nature friendly activity. Our clients deserve the best, and thinking about beginning and novice fly fishermen, we have designed FLY FISHING COURSES IN SENDERO LODGE. This innovative idea will introduce you to this world in the best manner. You will get permanent instruction from qualified guides and instructors in an unequalled environment, with the best equipment, the comforts of a fishing lodge and Patagonian spirit.
Go ahead. Write to us to get some more information about our propositions and start living this fly fishing paradise.
Back to the news list